6 Tips for Safe Summer Hiking
Thursday 13th of August 2019

Tips on how to prepare for a safe and enjoyable mountain hike in Val di Fassa.
The Dolomites are a monumental example of nature's splendour, as soon as you arrive you will want to absorb and be absorbed by the breath-taking vistas surrounding you. With day long activities like hiking or trekking it's well worth your time getting organised, the mountains can be dangerous if you're inexperienced in this type of terrain. Start strong by preparing and packing wisely.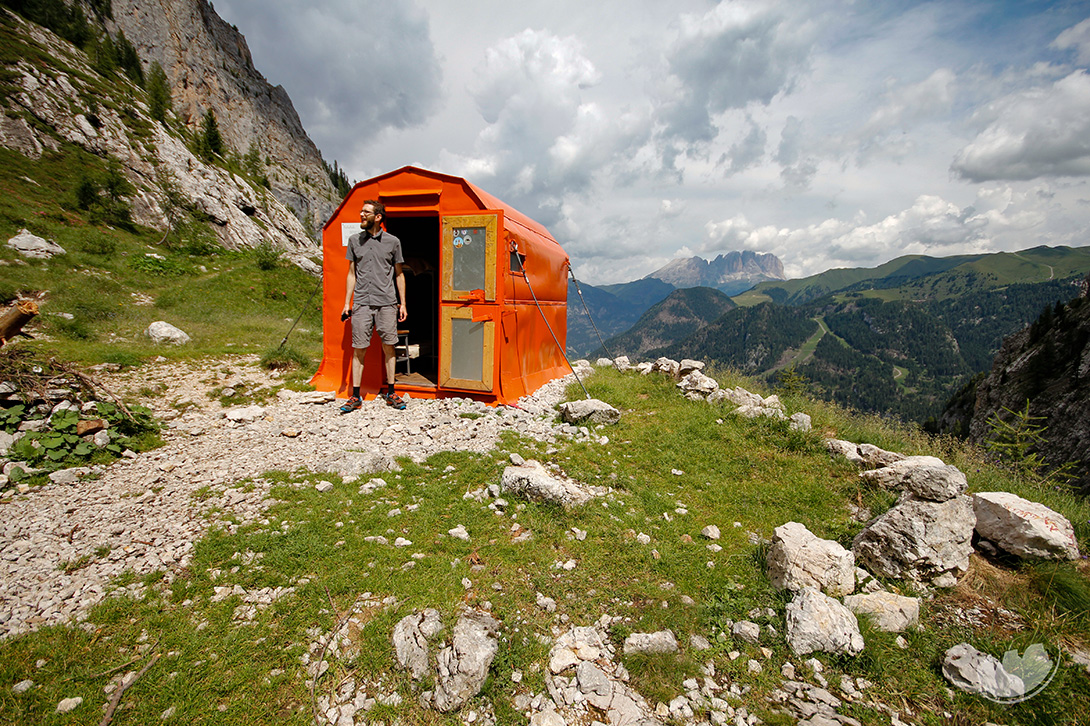 1 - Plan your hike:
Don't depend on your iPhone map to get you there, there is often no coverage in the mountains, embrace the opportunity of being tech free and go old school with a map (available for free at reception). Remember to check if the route you have chosen is accessible, some routes have been closed since October 2018 after Storm Vaia caused a considerable amount of tree fall.
Check out safe access route map here: Visittrentino.info/mca
Check the difficulty and length of the hike; here you should take into consideration your own physical fitness and be realistic about the distance you can cover, factoring in the stressors of walking on an incline for a considerable amount of time and that descending does put extra pressure on the knees. Pace yourself and allow some extra time for unforeseen situations and picture taking opportunities. If you are in a group consider the slowest person's ability and timing.
It is advisable to set off early in the morning, so that you can cover more ground but also to avoid starting off in the sweltering midday heat. It is much more rewarding to reach the mountain top during the afternoon where the air is fresher in order to relax and cool down after finally conquering your destination. Parallel to this you should start making your way down before it gets too late in the day, you do not want to find yourself hiking in the dark.
For full safety guidance get acquainted with the local alpine guides, they offer great advice and organise daily activities at a special price for our hotel guests: Sport Check Point
Stick to the main trails if you are hiking without a guide, follow the marked pathways to reach your destination successfully.
Avoid hiking alone, it is also recommended that you inform someone about the trail you intend on taking.
2 - Check the weather:
It is really important to check the weather forecast, during the Summer months the mountains are subject to intense thunderstorms with heavy rainfall, you want to avoid getting caught up in this as much as possible. In the most extreme cases there can be flash floods and areas perilously exposed to lightning, unfortunately occurrences such as these have led to fatalities in the past. 
The day can often begin with searing sunshine and change significantly by the afternoon, if this unexpectedly occurs turn around and start to descend your route. For this reason, it is generally recommended that you stay a few days in the mountains so that you can factor in the possibility of unpredictable or bad weather conditions. Despite these precautionary measures, it's important to mention that most summer days in Val di Fassa are blessed with clear blue skies and glorious sunshine.
Check out our local weather website: Arpav Dolomiti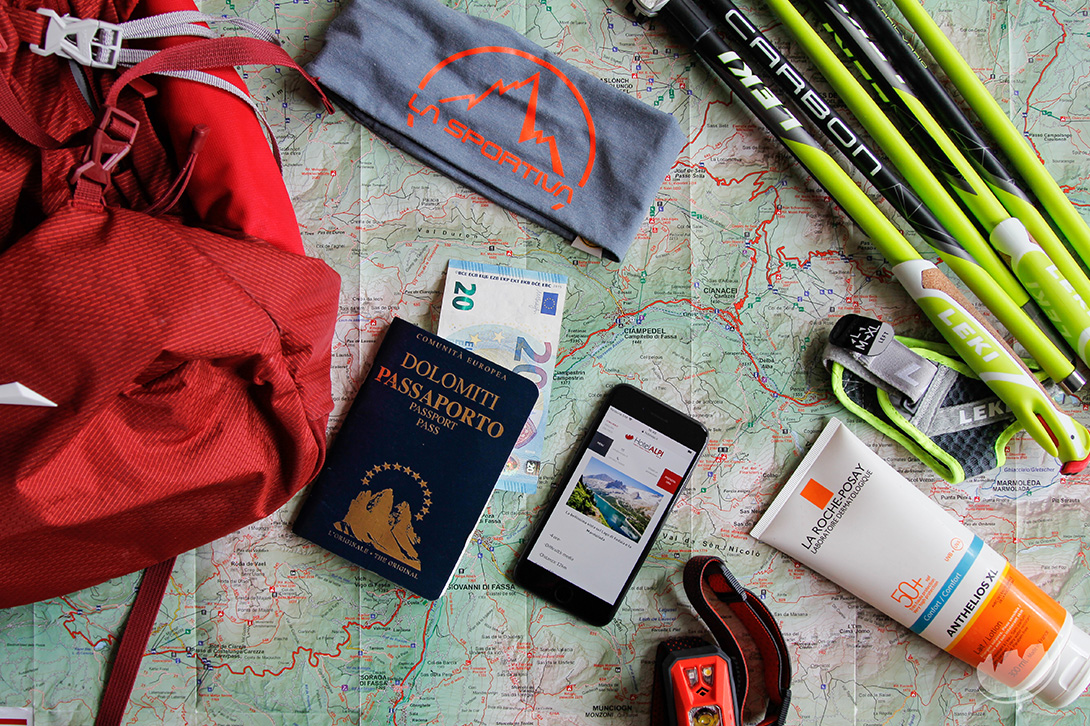 3 - What to wear:
This is mostly relative to your budget and comfort requirements; some items are more essential than others but appropriate footwear is a must.
Good hiking trainers/boots - We recommend La Sportiva an excellent local company.
Backpack - We suggest taking one with a breathable back for extra comfort.
Comfortable clothing - Preferably moisture wicking technical fabrics.
Extra layers - Temperatures can change or clothing may get wet.
Rain and wind proof jacket - At higher altitudes you will feel the wind and cold more intensely.
Trekking poles - Not essential but lightens the load uphill and helps balance you on the downhill and in technical terrain. 
4 - Other Essentials: 
Food and water - There are many Rifugi dotted throughout the mountains offering good food and beverages but it is very important to have food and water with you so that you are covered in any eventuality.
Mobile phone fully charged
Map
Money
Hat/Headband
Toilet paper
Sunscreen
Sunglasses
Headlamp
5 - Respect the environment:
Take your rubbish with you, leave the mountain as you found it. Respect all plants and animals. Enjoy your time and you will return refreshed in body, mind and spirit.
6 - If you find yourself in danger:
Conserve energy, seek shelter if possible and contact the local rescue team.
Emergency number: 112
 Happy Hiking!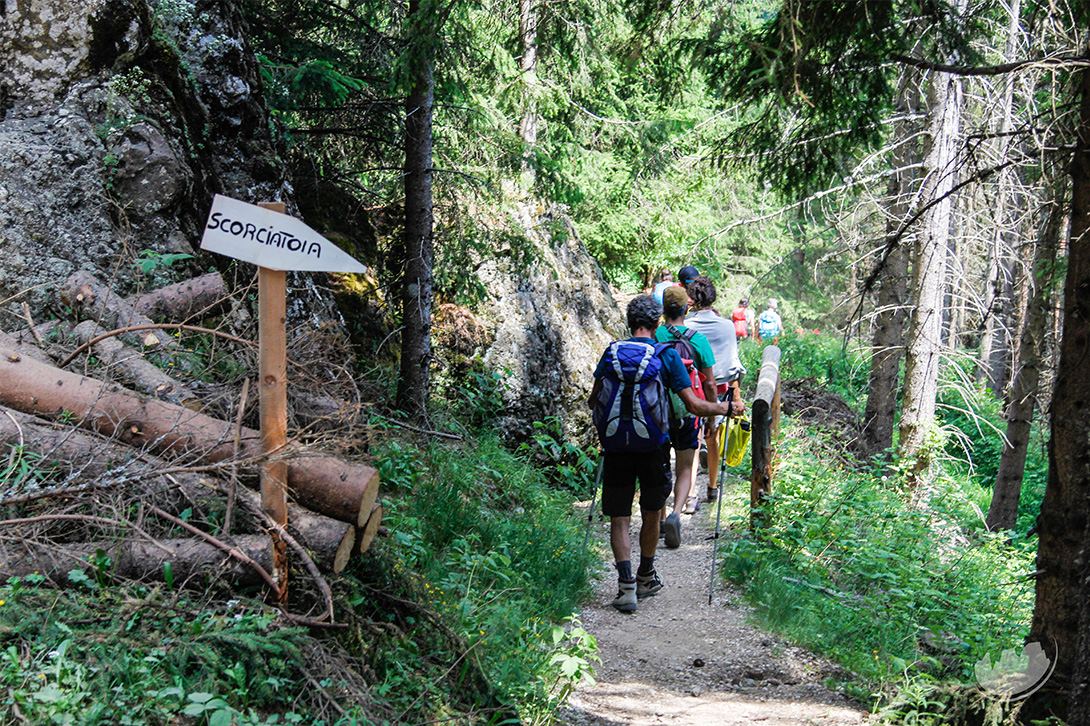 Our suggested excursions:
Excursion: Lago Fedaia | Porta Vescovo | Padon
Classic excursion: Col Rodella | Sassopiatto | Val Duron 
Classic excursion: from Gardeccia to Rifugio Vajolet | Passo Principe | Antermoia
Hidden Treasures: the Butterfly path | Campitello | Pra Molin | Val Duron
Events and activities: Breakfast at dawn | Passo Pordoi | Belvedere