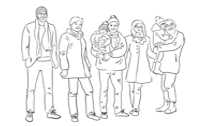 From more than 60 years in the heart of the Dolomites
A FAMILY HISTORY
It all started in the 1950's, when the founders Leo and Luisa Riz, with five small kids, decided to build the "Pensione Alpi", although Leo originally intended for it to be named "Bucaneve". A longer name meant a more expensive sign tax, so the shorter "Alpi" was adopted: the name that still distinguishes us today!
Originally the hotel had 12 rooms, a kitchen looked after by grandmother Luisa and a petrol pump located on the main road, where the eldest brothers served the few adventurers that arrived in the first cars to the valley.
The whole family was kept busy welcoming all of the the tourists that gradually began visiting Campitello di Fassa, not just for the summer holidays, but also for skiing during Christmas time and Easter. The famous "Grande Seggiovia" (great chairlift), with single chairs, took the skiers to the top of Col Rodella within 20 minutes!




The first refurbishment took place during the 1980's, when the hotel received 3 stars and had 30 rooms to welcome the many tourists that spent their holidays here. In 1985 a new cable car was built which carried 100 people to the ski slopes and excursion trails within 8 minutes.
There were no doubts that tourism was changing and Eugenio and Rosanna had to adapt quickly to the new requirements of the customers.
During the end of the 90's further refurbishment took place, the rooms became 44, the kitchen and the dining room were enlarged and fully renewed and a new spa centre and garage were built.
In 2005 8 more rooms were refurbished with the use of specialized fabrics and materials in consideration of any guests
that may suffer from allergies.
Looking forward our family have many new ideas in mind… we will keep you updated!