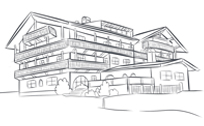 Wellness Hotel. Pampered and regenerated.
WELLNESS AND RELAX
There is nothing better after a long day at work, to be welcomed by the warmth of home.
It is from this unique sensation that our small wellness centre is inspired, ready to welcome you after a day of fun on the slopes or a mountain hike. We provide a spa offer to assist your total relaxation.
Finnish sauna (80°–110°)
With the dry heat of the Finnish sauna, stress seems to melt away from the body. Afterwards you should take a quick cold shower to bring back all of your energy in true Finnish style!
Roman Sauna (65°–80°)
This ancient treatment of roman origin, with detoxifying and purifying properties, pleasantly warms the body stripping away toxins and stress. Follow it with a cold shower to fully regenerate.
Steam Room (65°–80°)
A marvelous mix of heat and steam, a multisensory experience thanks to the natural aromatic oils, it will relieve stress and leave you
with soft and hydrated skin.
Cold Fog (5°–6°)
Jets of atomized cold water will tone and refresh the body like morning dew, great to reactivate the blood circulation.
Dressing gown for rent € 10 per week
Slippers € 3