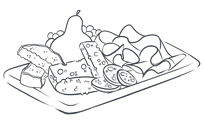 Authentic aromas and flavours
OUR RESTAURANT
Breakfast
Our grandparents taught us that breakfast is the most important meal of the day. This is why every morning you will find a large buffet, full of fresh and tasty produce, to boost your energy before a day of skiing or hiking in the beautiful Dolomites:
Sweet and savoury recipes, for example homemade cakes, cereals and croissants, but also eggs, bacon, cheese and cold cuts.
All the pleasures of a freshly ground coffee, or a cappuccino prepared with fresh Trentino milk. Nothing better to start the day.
You will also find a selection of regenerating teas and fresh fruits.
The buffet is complete with organic and allergen free products. These are the only products you will find in individual portions. Considering our respect for nature and the environment we obtained the Ecolabel certification and have eliminated as much packaging
as possible to help reduce waste.





Lunch and Dinner
In our restaurant you can enjoy lunch and dinner in an elegant and relaxed setting. If you wish to join us, we can offer you a unique variety of dishes, all prepared with the very best of ingredients.
Apart from our traditional dishes you will find original dishes prepared by our kitchen staff, accompanied by our beers and a selection of various Trentino and Italian wines. To start there is an appetizing buffet with salads and vegetables, followed by a choice of three different courses including Trentino-Alto Adige, Italian and International dishes.
We work every day to make your stay unique. Each week we host a gala dinner to offer you the opportunity to experience
a special evening full of flavour.
To best accompany the dishes we have selected more than 60 wines, both from our local region and other Italian regions, and we serve our in house brewed craft beers.
We are aware and sympathetic to the effects caused by allergies and food intolerances. We also consider the needs of those who are vegetarian/vegan or follow specific diets. We fully commit to satisfying all of the specific dietary requirements of our customers
with personalized dishes.
We encourage you to let us know of any special dietary requirements before your arrival, so that we can organize ourselves accordingly!