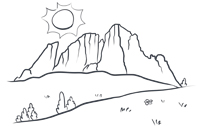 Live Val di Fassa one pedal at a time
BIKE HOTEL
Here in Val di Fassa, there are many bicycle tracks available to suit all levels and tastes!
Great cyclist feats were made famous here by some of the best cyclists in the world: passo Pordoi where Coppi and Bartali competed or the 11km of Sella where in 1998 Pantani won the "cima Coppi".

Mountain bike lovers will find many tracks surrounded by the breath-taking views of Val di Fassa, with varying levels of difficulty.

For adrenaline seekers we urge you to try the Downhill track in Belvedere-Canazei, which includes bridges and jumps… and where uphill is made extremely easy with the many cable cars on hand.

For a more relaxed day you should try the cycle-track along the Avisio, ideal for the whole family, which passes through many playgrounds for children and arrives all the way to Molina di Fiemme (a distance of more than 40km). The return trek is made very easy thanks to the Bus Bike Express, a shuttle bus where you may load your bike and enjoy the drive back.
Hotel Alpi is now part of the club Dolomiti Lagorai Bike Hotel;
this means we offer specific quality standards and many dedicated services working in accordance with our experience in the tourism field. Our famous ladino hospitality meets the needs of bikers.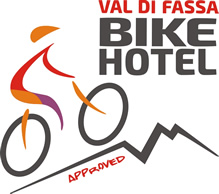 From this year there are many more services dedicated to cyclists:
Bike corner: here you will find specific maps about the bike tracks in Val di Fassa and Trentino;
Secure bike deposit, locked and accessible only to our guests;
Area where you may power-hose the bike;.
Laundry service for technical clothing (by payment);
Special price agreement for accessories (helmets etc.) and equipment with the local bike-rent;
Kit for small repairs (spanners, pump, screwdrivers etc.);
Special price bike rent near the hotel;
Basic mountain bikes, free of charge for children and adults, available to our guests;
Mountain bikes "advanced" free of charge (prior booking required);
Afternoon snack with hot drinks and Trentino specialities (by payment);
Rich breakfast with the possibility of an early start (prior booking required);
Personalized dinner menu (upon request);
Specialized holiday package offers with guided excursions included in the price;
Bike events
Opening Sellaronda MTB Tour
From 15.06.2019 
Around the Sella mountain in MTB, thanks to the transport of bikes with the lifts, fun is guaranteed!
MET Val di Fassa EWS
29.06.2019
This year Canazei will make it's debut in the Enduro World Series, where many of the top athletes will challenge in jaw dropping downhills! 
Canazei SuperEnduro
23/24.06.2018
Second stage of the "SuperEnduro" National circuit 2018: 4 time trials on the trails of our valley.
30° Maratona dles Dolomites – Enel
07.07.2019 
One of the toughest road bike races there are, 138 km with 4.230 meters of positive vertical drop and six mountain passes to cross!
Val di Fassa Bike – Volvo Cup
09.09.2018
This mountain bike race has reached the eleventh edition, there will be easy, hard and up hill!
Eco Dolomites Sellaronda Bike
Settembre 2017
Sotto il patrocinio della fondazione Dolomiti UNESCO, anche a settembre i passi dolomitici intorno al Sella, Gardena, Pordoi e Campolongo saranno riservati ai ciclisti.