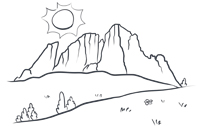 Dive into nature
SUMMER IN VAL DI FASSA
The Dolomites, a majestic display of nature, UNESCO World Heritage Site, surrounds our Hotel and offers you endless possibilities
for enjoyment and relaxation.
Sport
A sport lovers paradise.
Hundreds of trails for trekking and mountain biking through enchanted woods and peaks that will invigorate and inspire you.
Let's not forget about the bikers, with many kilometres of ever changing and winding roads to discover. Nordic walking, free climbing, golf, paragliding, horse riding and much more remain at your disposal for a fun and action packed holiday.
For many years there have been plenty of events organized within the valley, some of which include The Sella Ronda Bike Day, Traslaval, Dolomiti Sky Race and Val di Fassa Bike.
Family
If you are looking for a family holiday you are in the right place.
We want our hotel to be a house of relaxation and enjoyment for everyone. We have organized children's entertainment, games and sports for your little ones, the perfect way to make the most of your stay in Val di Fassa.
The opportunities available are endless: fairytale paths surrounded by nature and charming alpine villages are just at the beginning of a journey that will remain in your memories for a lifetime.
Relax
Close your eyes and breathe deeply, "listen" to the fantastic silence…welcome to Val di Fassa. There is no better place to relax and recharge your batteries.
A retreat into nature completed by an opportunity to fully relax, starts with our wellness centre: available to you with Finnish and Roman sauna and a steam bath
to help regenerate both body and mind.
Places, legends and flavours
There is an immense cultural heritage to discover between museums and unique places, which tell of an ancient and rich history.
For those that would like to discover the traditions of Val di Fassa in Vigo, you can find "Museo Ladino di Fassa" (Ladin Museum of Fassa) where you can learn about the history of the "Ladini" a rural life full of ancient traditions, many of which remain alive today, including parades that take place at the end of the summer. There are also many folkloristic groups that exhibit in the villages of Val di Fassa, such as the "Schuhplatter" from Campitello whom create extravagant dances not to be missed.
The natural parks of Paneveggio-Pale di San Martino, with the nature reserve of Lusia-Bocche and the Sciliar-Catinacio preserve untouched wilderness where nature is at its best.
The tradition is enriched by the abundant local gastronomy, with genuine products that encapsulate all of the freshness of the alpine region in which they derive from. These are simple and natural recipes in perfect symbiosis with their surroundings. If you are interested, look out for the meetings of club "Fassa Fuori Menù" and if you like craft beer, be sure not to miss the local craft beer festival "La Bira te Fascia"!