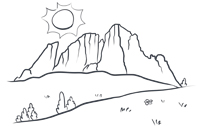 Welcome to a snowy paradise
WINTER IN VAL DI FASSA
An unmatched skiing offer, in winter Val di Fassa offers 1200 km of slopes perfectly prepared to welcome all skiers and snowboarders.
For those who do not wish to ski there are many other activities, such as trekking with snow rackets, ice climbing and Christmas markets, on top of all of the wonderful scenery that Val di Fassa has to offer.
Furthermore, with special promotions for the beginning and the end of the season, skiing has never been so convenient.
Sport
152 slopes with 83 ski-lifts, 7 different ski areas perfectly connected, 4 ski-tours and 6 snow-parks: a paradise for winter sports!
It is an indescribable feeling to ski on the perfectly prepared slopes and experience the extraordinary landscape of the Sellaronda. The carousel of the Dolomiti Superski with its 1200 km of slopes is connected to Campitello by the cable car at Col Rodella, which is 500 metres from us, very easily accessible with a discounted Ski-bus service.
For those who do not wish to ski there are many other activities: snow rackets, ice climbing and even the thrill of paragliding!


Family
During the winter Campitello is the perfect place for a holiday with your family! Children are always looked after and kept busy: each ski area in the valley has a kindergarten, baby ski slopes and school slopes, with the backup of instructors and children's entertainers.
Right in front of the hotel there is a snow playground, called Banzimalia, with an entertainment service and games for kids. There is also a ski school where children may start skiing with the help of ski instructors.During the nights of a full moon you must not miss the sledge runs from the rifugi! Another event not to be missed is the Carnival in Campitello that showcases many of our Ladino.

Relax
Close your eyes and breathe deeply, "listen" to the fantastic silence…welcome to Val di Fassa. There is no better place
to relax and recharge your batteries.
A retreat into nature completed by an opportunity to fully relax, starts with our wellness centre: available to you with Finnish and Roman sauna and a steam bath to help regenerate both body and mind after a day on the slopes.
Places, legends and flavours
There is an immense cultural heritage to discover between museums and unique places, which tell of an ancient and rich history.
For those that would like to discover the traditions of Val di Fassa in Vigo, you can find "Museo Ladino di Fassa" (Ladin Museum of Fassa) where you can learn about the history of the "Ladini" a rural life full of ancient traditions, many of which remain alive today, including the colorful Carnival that takes place each year.
The natural parks of Paneveggio-Pale di San Martino, with the nature reserve of Lusia-Bocche and the Sciliar-Catinacio preserve untouched wilderness where nature thrives at its best.
The tradition is enriched by the abundant local gastronomy, with genuine products that encapsulate all of the freshness of the alpine region in which they grow. These are simple and natural recipes in perfect symbiosis with their surroundings.