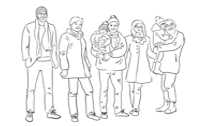 Three generations, one passion: hospitality
NICE TO MEET YOU, FAMILY RIZ
Eugenio

also known as Eugen, is the son of Leo and Luisa. Eugen originally trained as an artist and draftsman. When you don't see him in the hotel he is likely to be in the carpentry where he sculpts or hiking in the woods foraging for mushrooms. He loves to chat with our guests in the evenings so if you have any questions about Val di Fassa feel free to ask.

Rosanna

is the wife of Eugen and she is renowned for her cleanliness and love of flowers, in fact all the plants around the hotel are under her care. She is an avid reader of books, especially about Trentino and the Tyrol region, so she is very knowledgeable regarding our local history.

Stefania

is a recent mother of two lovely kids, which occupy a lot of her time, nonetheless you will always see her, with her Tyrol dress, in the dining room ensuring that our guests are well looked after. She loves our traditions in fact she takes part in many local festivities wearing the typical Val di Fassa dress, just like our grandmothers used to.
Daniel

After having travelled the UK and Ireland for many years, working in various pubs and cocktail bars, Daniel has taken his new skills and tricks back to the hotel bar and restaurant. He has a keen interest in craft beer and other beverages and is more than happy to advise our guests with the appropriate choice to coincide with their meal or mood.

Vladi

is the partner of Stefania. Originally from Moscow he has travelled for over 20 years as a chef in Italy. He loves style and elegance with his own creative personal touch. From this summer he will return to guide the hotel kitchen!

Nadia

Nadia is a lovely talkative 6 year old, you will hear her before you will see her! She communicates in three languages on a daily basis, Italian, Ladino and Russian. Her current goal is to become a young empress, like her heroine the empress Sissi.
Leo

Leo is the youngest Riz member, always lively and always smiling. He loves tractors, diggers, trucks and thoroughly enjoys being taken on bicycle rides!