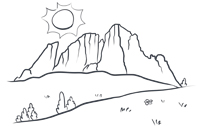 Dolomites, Alpine Paradise
LIVE VAL DI FASSA
Nestled at the end of Val Duron, underneath the majestic balcony of Col Rodella, there is the village of Campitello di Fassa and Hotel Alpi.
Campitello is only a fraction of the alpine paradise that forms the splendid Dolomites.
Hotel Alpi is the ideal starting point to discover its secrets, traditions and natural beauty, both in summer and in winter. As a UNESCO World Heritage Site, these mountains evoke amazement in everyone lucky enough to visit: have you ever heard of the Enrosadira?
Maybe you have, but no words can really describe the unique experience of seeing this natural wonder in real life.
A world of activities, walks, sports and excursions are available to all. If you feel spoilt for choice - we fully understand and are happy to guide you through all of your options! We are always available to help and provide information so as to ensure you live your
best holiday here with us in Val di Fassa.