Classic excursion: from Gardeccia to Rifugio Vajolet, Passo Principe and Antermoia
Wednesday 30th May 2018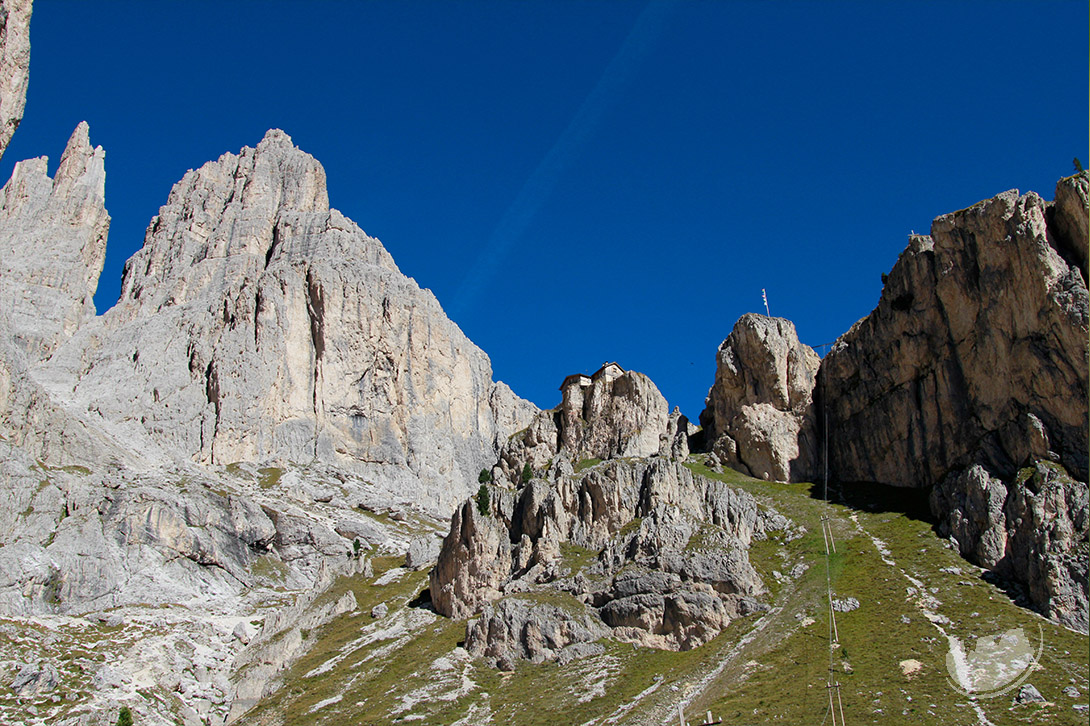 Rifugio Preuss seen from the path
-7 hours walk-
-Difficulty: Hard-
This famous excursion which crosses the mountain range of Catinaccio-Rosengarten to the beautiful lake of Antermoia is one of the most beautiful locations in Val di Fassa. The itinerary is long and you have to be physically prepared, but in exchange it offers some truly amazing views.
Update: From summer 2019 the shuttle bus service from Pera to Gardeccia is no longer in operation.
You will begin your journey by taking the chairlift of Pera di Fassa or the cable car from Vigo di Fassa, once you reach the top you will then take the path towards rifugio Gardeccia at 1949 metres.
Upon reaching this location you will continue on the path towards rifugio Vajolet. As you proceed you exit the woods where you enter a rocky landscape, in the distance on top of a rock you will see rifugio Preuss.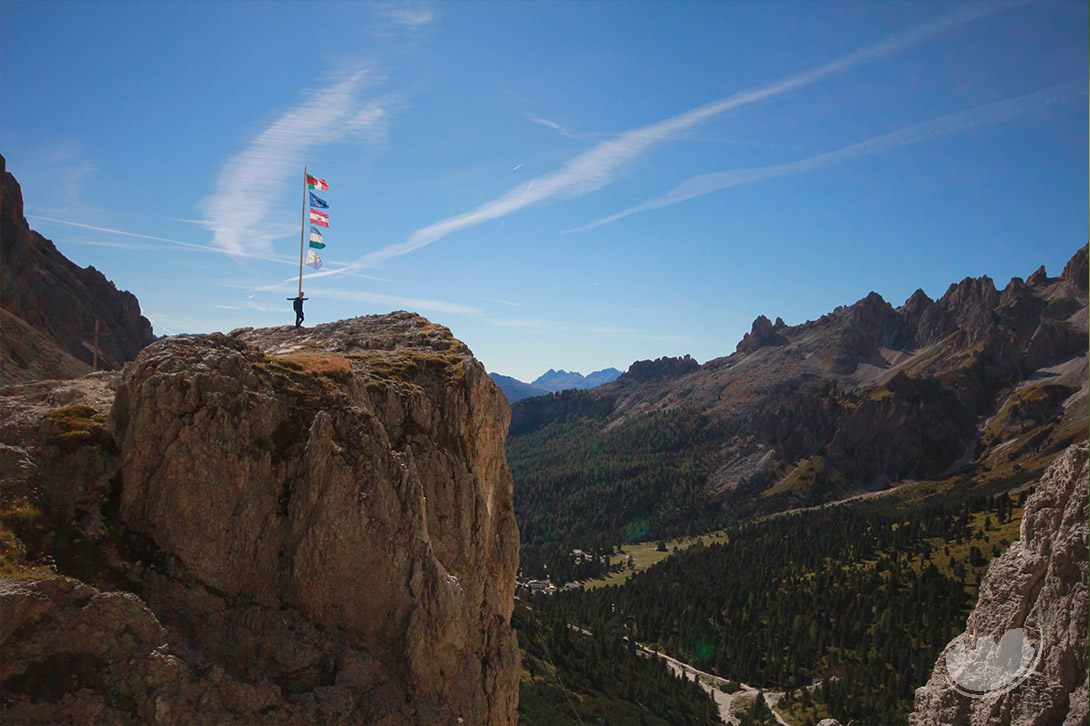 The view from rifugi Preuss and Vajolet
After the steep climb to the rifugi you continue on the path, direction rifugio Principe. The path continues to climb along the uniquely expressive and evocative landscape.
Once you arrive at rifugio Principe you continue on your right along a narrow path. Be aware that this part is a little more technical, the track will lead you to passo Antermoia at 2770 metres, the highest point of the excursion. Alternatively there is also a famous via ferrata, ideal for expert excursionists or those accompanied by an alpine guide.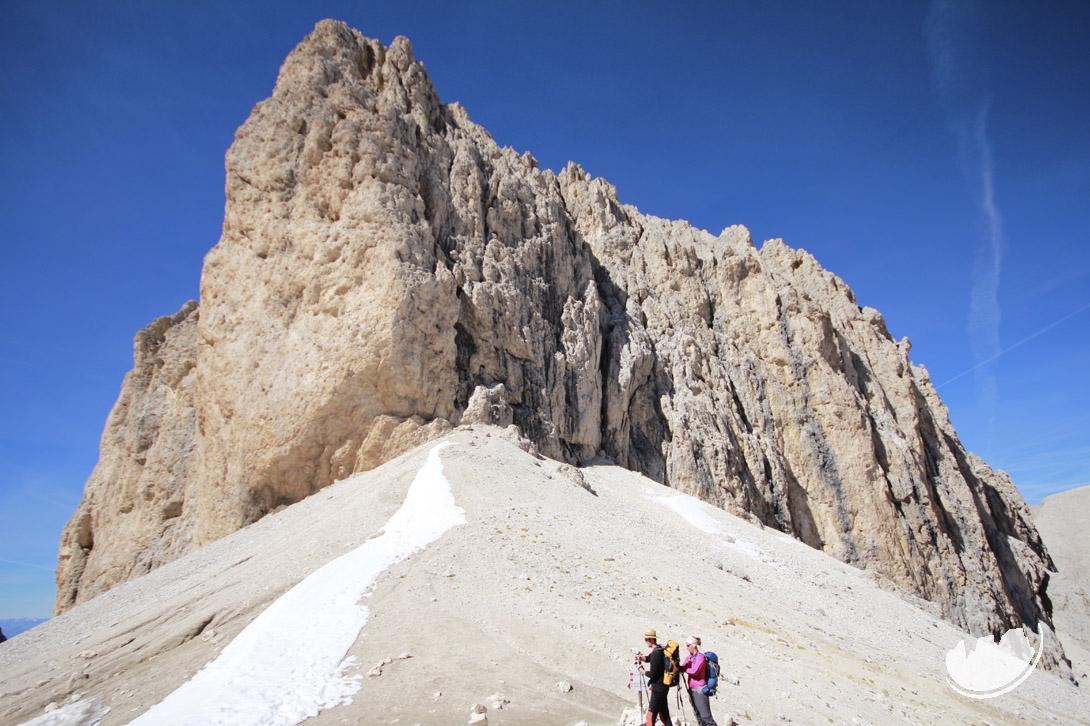 Passo Antermoia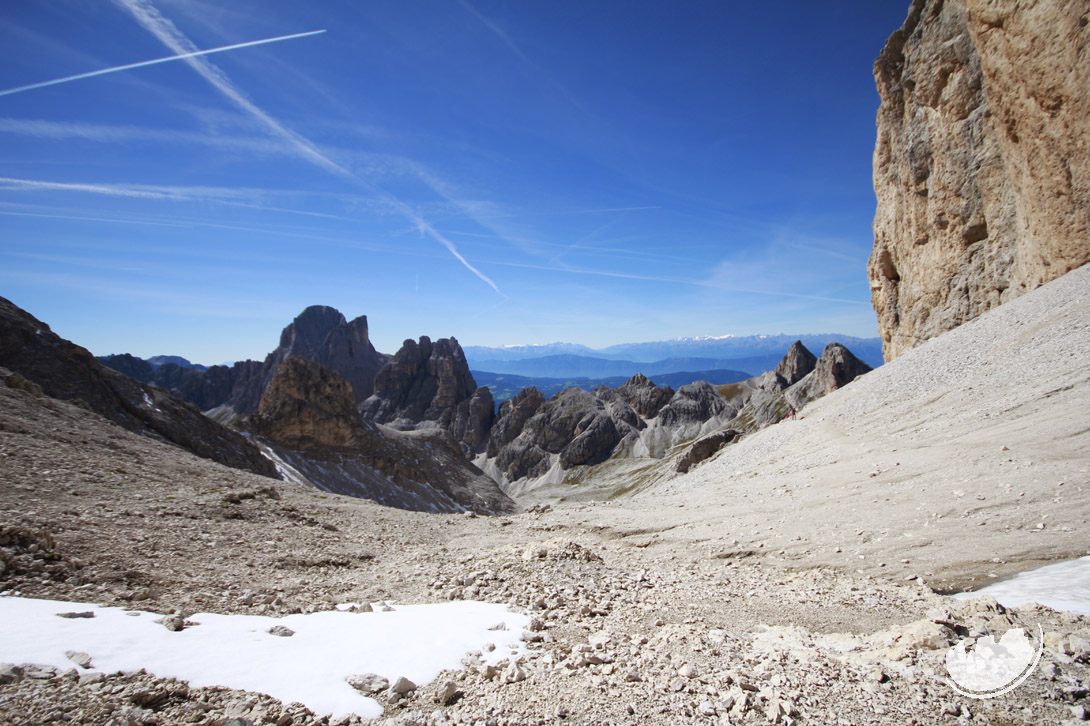 View from passo Antermoia towards val di Vajolet
Once at passo Antermoia you start the descent along the path which brings you down towards Valon de Antermoia, here you should try to be careful because even during the summer months there may still be some snow, leaving the ground slippy in parts. After completing the downhill trek and arriving in the valley, it is only a short walk to reach the famous lago d'Antermoia where, recalling the legend, was once the meeting place of the "stries" (witches) of Val di Fassa. A short distance from here you will pass by rifugio Antermoia and continue on your journey towards Passo di Dona and Passo delle Ciaregole (Ciarèjoles). Continuing the descent you will re-enter the forest and shortly after you will reach Val Duron along the path 578. Passing through Val Duron you will come across Baita Lino Brach and rifugio Micheluzzi where you can take the forest trail back down towards Campitello di Fassa.
A long and heavy day but extremely rewarding, leaving you with fantastically unique and vivid memories.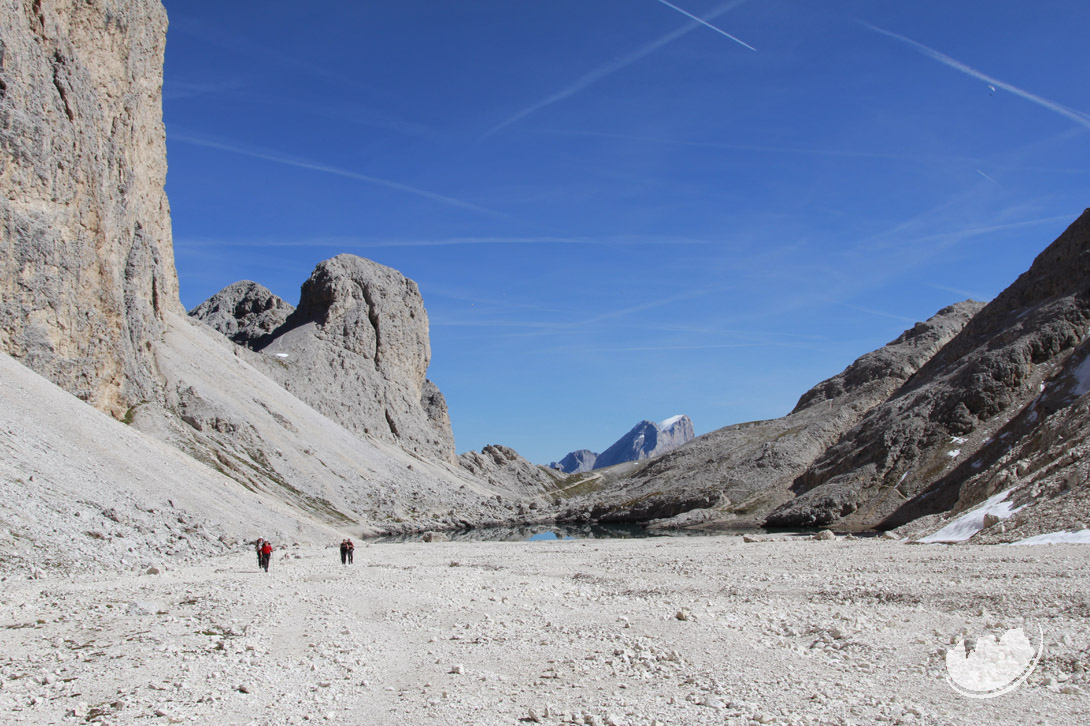 Valon d'Antermoia, on the background the Marmolada
 
The famous and beautiful lago d'Antermoia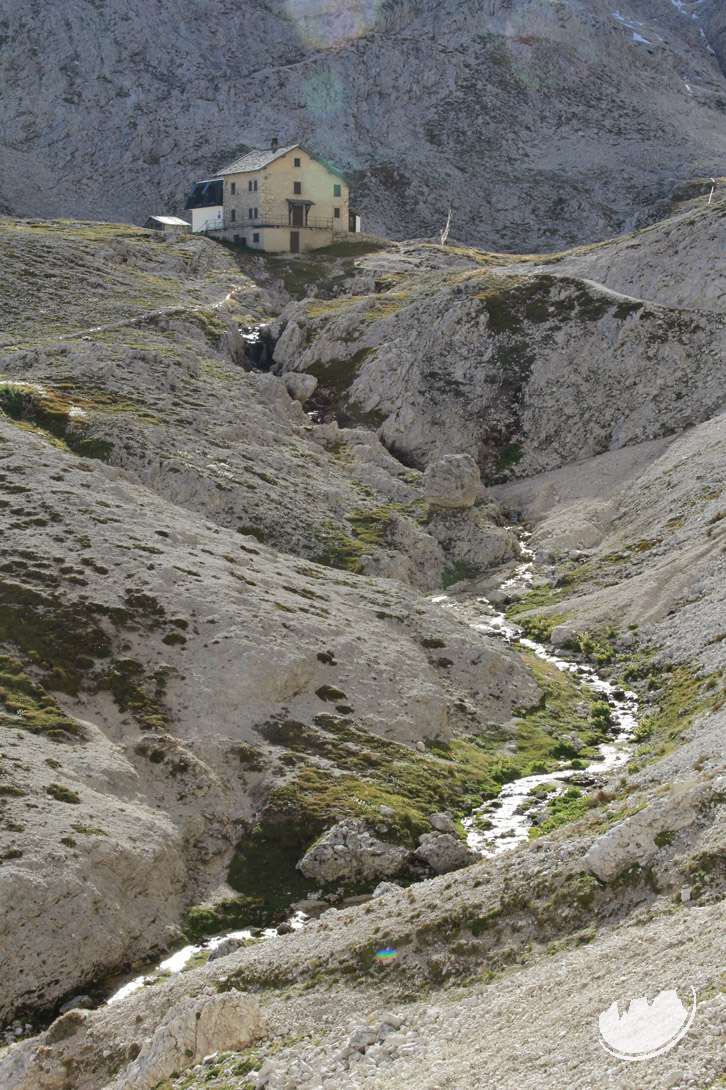 Rifugio Antermoia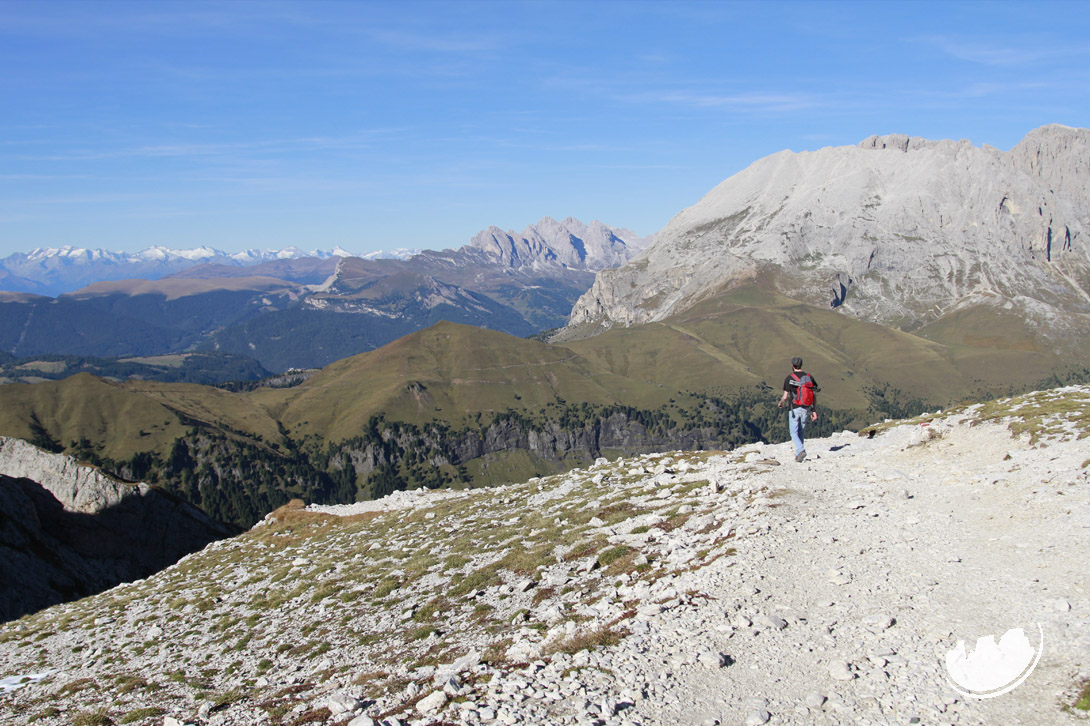 The descent towards val Duron, on the right Sassopiatto mountain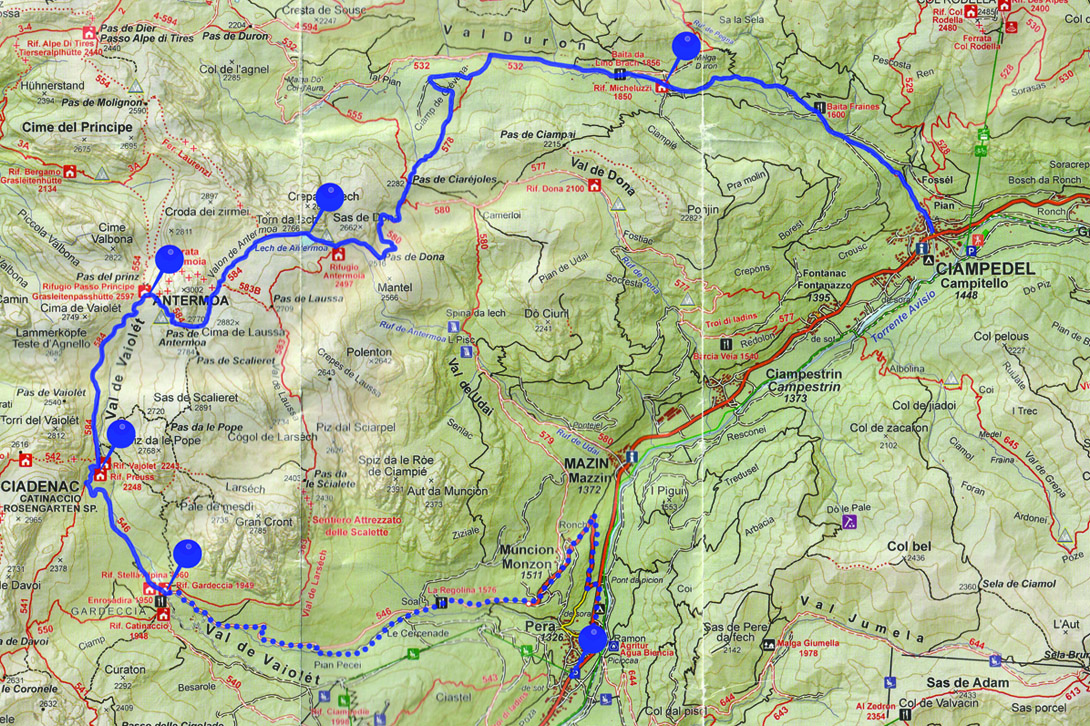 Map of the excursion
 Other excursions:
 Excursion: Lago Fedaia | Porta Vescovo | Padon
 Classic excursion: Col Rodella | Sassopiatto | Val Duron 
 Hidden Treasures: the Butterfly path | Campitello | Pra Molin | Val Duron
 Events and activities: Breakfast at dawn | Passo Pordoi | Belvedere